Winning a Grammy is not the only way they make the headlines after attending the award ceremony and these celebrities have proved that with their revealing Grammy dresses. That is exactly what we'll be focusing on from here on, as we go through some of the most breathtaking Grammy dresses worn by celebrities over the years.
So, without further ado, let's get started.
Also see: 16 Of The Best Scary Movies Streaming On Netflix Right Now
Here are some of the most revealing Grammy dresses of all time
1. Jennifer Lopez (2000)
Via
J'Lo's stunning see through Versace gown with intensely plunging neckline is still one of the most talked about Grammy dresses of all time.
2. Celine Dion (1993)
Via
Celine Dion left very little to the imagination with her black knit dress that even provided a proper view of the thong that she was wearing underneath it.
3. Margaret Cho (2004)
Via
The tail feather dress of Margaret Cho put a lot of more on display than the usual.
4. Rihanna (2011)
Rihanna's ruffled mermaid dress from 2011 revealed a lot in an alternate manner.
5. Traci Bingham (2001)
The Baywatch star sure knew how to make the headlines with her wardrobe.
6. Beyonce (2014)
Despite the fact that her entire body was covered with fabric, Beyonce managed to look scandalously sexy with her white lace gown with sheer panels.
7. M.I.A (2009)
Via
It was during her pregnancy days that M.I.A decided to show up mini polka dotted dress which flashed her baby bump.
8. Anne V (2012)
Via
Anne V put her bikini line on display with her black dress from Grammys 2012.
9. Fergie (2012)
Via
Fergie's tangerine lace gown from 2002 was indeed breathtaking. The singer later revealed that she was given two grammy dresses to choose from and the one she wore was actually the "safer" one.
10. Kelly Rowland (2013)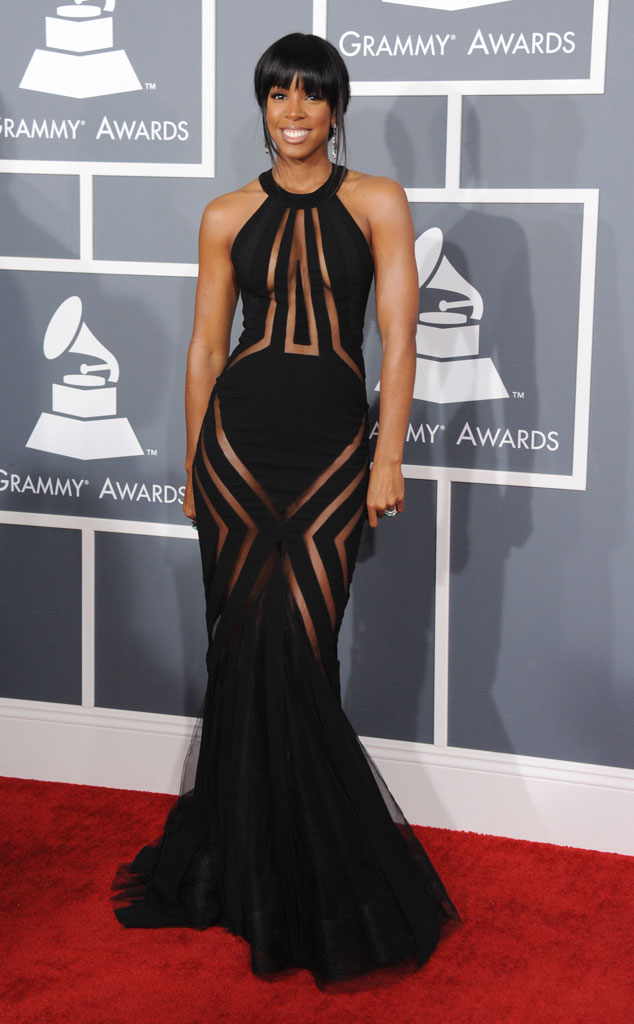 Via
A few days before the ceremony, CBS issued a wardrobe warning. But that didn't stop Kelly Rowland from wearing a revealing black gown with sheer panels at all the right places.
11. Nadeea (2010)
Russion pop singer Nadeea put a fair amount of side boob on display with her lace bustier mini-dress at Grammys 2010.
12. Teri Hatcher (2006)
Via
Teri Hatcher's see through pinafore made the buzz in 2006.
13. Christina Aguilera (2004)
In 2004 Christina won a Grammy for the best female pop vocal performance, but that wasn't the only thing we remember about the pop singer from that ceremony. The fact that Christina spent most of her time preventing a nip slip fro happening in her ill-fitted satin halter neck dress made a whole lot of buzz as well.