Just like any other body part, the vagina can also have bad conditions and these conditions are mainly common and easily curable. Following are the 5 most common vaginal conditions you should know about.
1. Blisters Filled With Pus
It's likely: Vaginal boils
Boils sound scary, we know, but there's no need to panic: Most often caused by your choice of grooming method, be it shaving or waxing, boils in your vaginal region are usually caused by a dull razor, as ingrown hairs or infected hair follicles that aren't taken care of can lead to the pus-filled blisters. Any tool you use on your body daily needs to be cleaned at least weekly, as the bathroom can be a reservoir for bacteria. Make sure to give the vaginal skin a protective, soapy coating before shaving.
If you come down with an area of raised bumps or a boil, don't try to squeeze or pop it yourself—that can make the pain and inflammation worse, and makes it more likely the infection will spread. Instead, use a warm compress to relieve discomfort, wear loose pants and underwear so you're not restricting the area, and give it time to heal. If it persists after two weeks, is wider than two or three fingertips, or you develop a fever, you may want to visit your doctor.
2. A Tender Bump Near The Vaginal Opening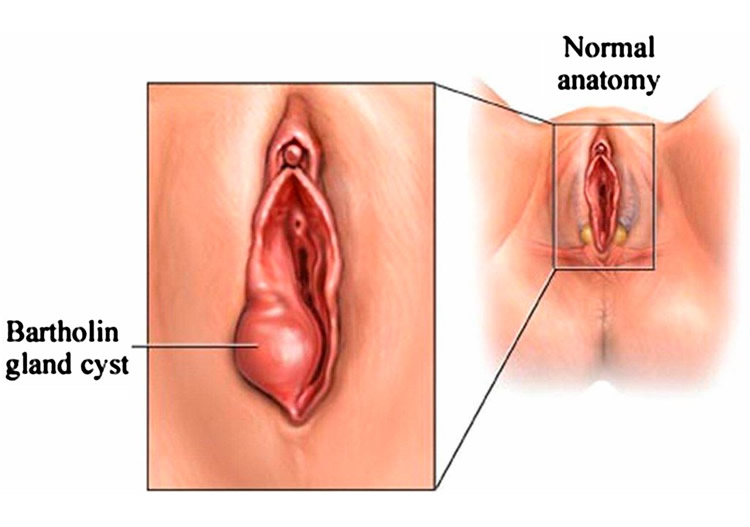 It's likely: A Bartholin's cyst
This is one of the most common conditions occurs when the glands on either side of the vaginal opening become blocked, causing the fluid they usually secrete to go back up inside the gland. It's often characterized by a small bump near the vaginal opening that's tender and painful to the touch but is completely harmless when treated. They can be managed with a warm compress, soaking in a tub filled with just a few inches of warm water, or by taking over-the-counter pain medication and giving it time to heal.
3. Patches Of Skin That Are Lighter Or Darker Than Normal
It's likely: A benign mole
Thankfully, vaginal cancer of any kind is rare, so if you notice any mole-like marking on or inside of your lady parts, it's probably harmless. Benign moles often appear as dark or lighter patches on the skin or raised moles similar to those found on other parts of the body. They're almost always benign or related to a medical condition and may or may not be itchy or raised. But if you're worried, don't hesitate to bring it up (better safe than sorry). And if the spot is multi-colored, itchy, raised, or increasing in size, have it evaluated ASAP so you know exactly what's going on—and hopefully gain some peace of mind.
4. Hair That Won't Disappear Post-Groom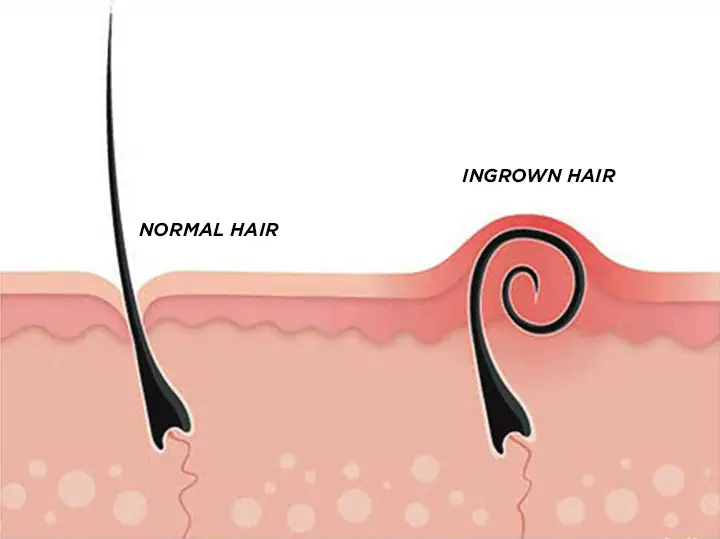 It's likely: Ingrown hair
If you groom your downstairs region, you probably come face-to-face with an ingrown hair. These hair bumps happen when the cut pubic hair curls back underneath the skin's surface and continues to grow, possibly causing a bump, inflammation, or pus in the area. Common irritants may also be to blame, including fragrant soaps, detergents, fabric softeners, sanitary pads, nylon underwear, rubber products, etc.
Clearly, there are unsuspecting feminine rituals that can irritate areas of the vagina every day. But that doesn't mean you should quit your grooming routine. If you use a razor or wax your pubic hair, make sure the skin is always kept clean before and after removing the hair.
Also read: 12 Things You Should Avoid Doing To Your Private Part
5. Flesh Colored Pimples
It's likely: Syringoma
These tiny, harmless bumps occur when sweat ducts are blocked. They're much smaller than a Bartholin's cyst, and on top of appearing on your vagina, they can crop up on your face, underarms, chest, and belly-button region. Syringoma is characterized by benign, flesh-colored pimples that are usually not tender to the touch. Sometimes there are multiple lesions, or they can grow larger than you're comfortable with, but resist trying to remove or pop them yourself. It can cause damage to the surrounding skin. Either let them heal on their own and make sure you change out of sweaty clothes immediately after a workout or talk to your doctor about having them removed.